Funny Pandemic Custom Picture Socks
Regular price
$ 59.99 USD
Regular price
$ 24.95 USD
Sale price
$ 59.99 USD
Unit price
per
Sale
Sold out
If you're looking for Custom Picture Socks fit for the pandemic, you've come to the right place. 
These personalized custom picture socks reveal your good sense of humor -- all while staying socially distant!
Your Funny Pandemic Custom Picture Socks are sure to become a conversation when people see your awesome socks.
And since this is probably one of the biggest world events that you'll ever experience in your lifetime, why not have some fun with it with these design socks that are filled with fun designs and cool printed pictures?
Whether you're safe at home or socially distant at work, these custom made socks are sure to brighten up the mood in the room!
We've put together the best designs in these custom picture socks so that you can share a laugh with everyone else that is dealing with the pandemic -- and that's pretty much everyone in the world!
While this pandemic has affected the entire world in a big way, rocking these design socks is your way of staying on trend and bringing positivity with a simple style statement.
With these custom picture socks (that are printed with pandemic related content), friends and family will be chuckling at your great sense of humor!
Made in the USA, these funny pandemic custom picture socks are made of top quality polyblend fabric that are one-size fits all.
It has a cushioned black heel for shock absorption, and a ribbed heel for a tight, secure fit.
Which means the durability and comfort that these two provide will serve you well -- as you continue to have fun while wearing these funny pandemic custom picture socks all day!
Listen...
The pandemic has definitely made some big impacts in our lives...
And these socks are definitely no cure to the virus...
But they will light up the room once you start wearing them.
Just make sure you share the laughs and spread positivity, and not anything else (AKA the virus)
Your funny pandemic picture socks await!
Share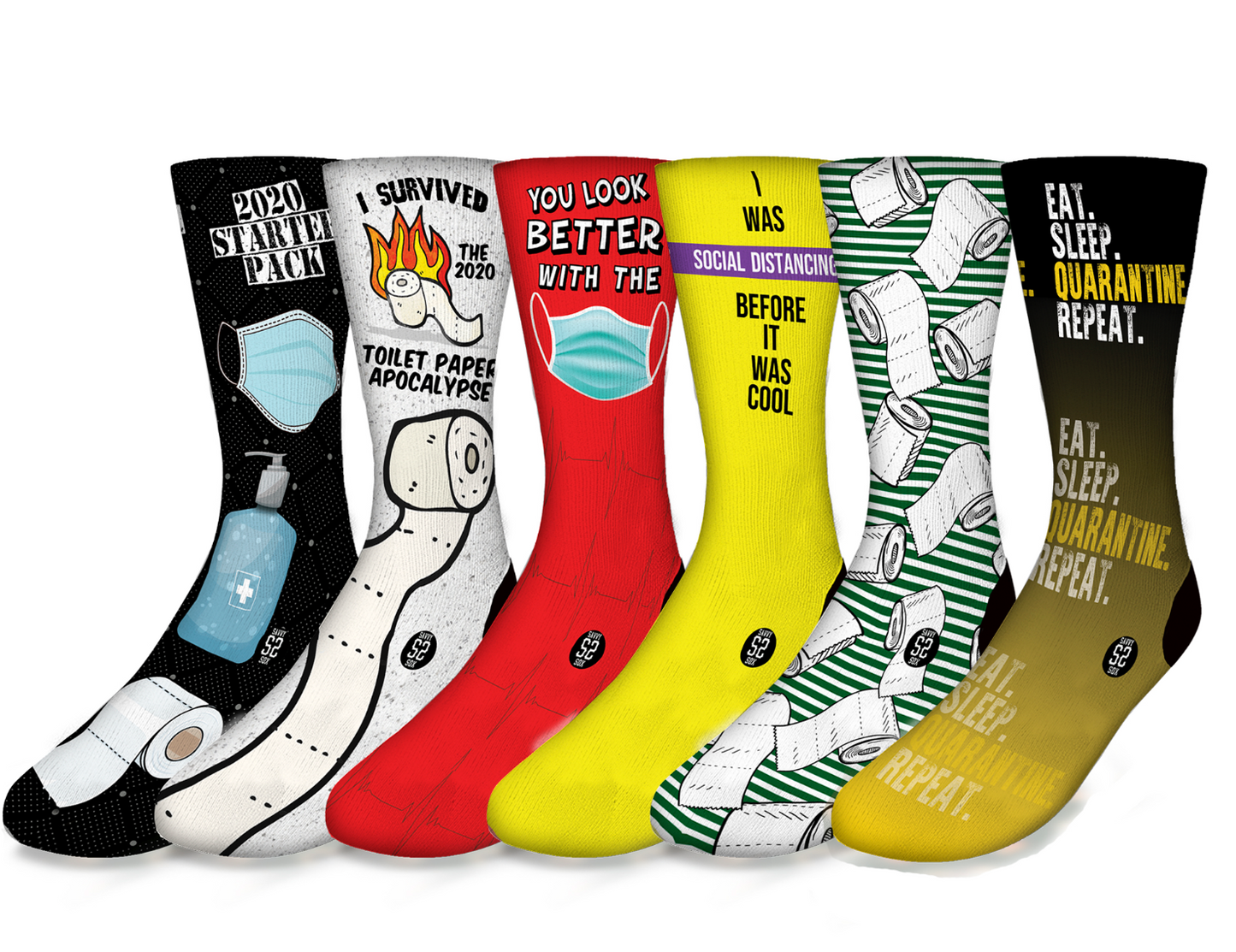 LOVE WALMART.COM?
We have great news for you ! You can now find Savvy Sox Sock Products on America's most trusted website Walmart.com . Click on button below to see our products
Go to Walmart.com